Andrew and his infected leg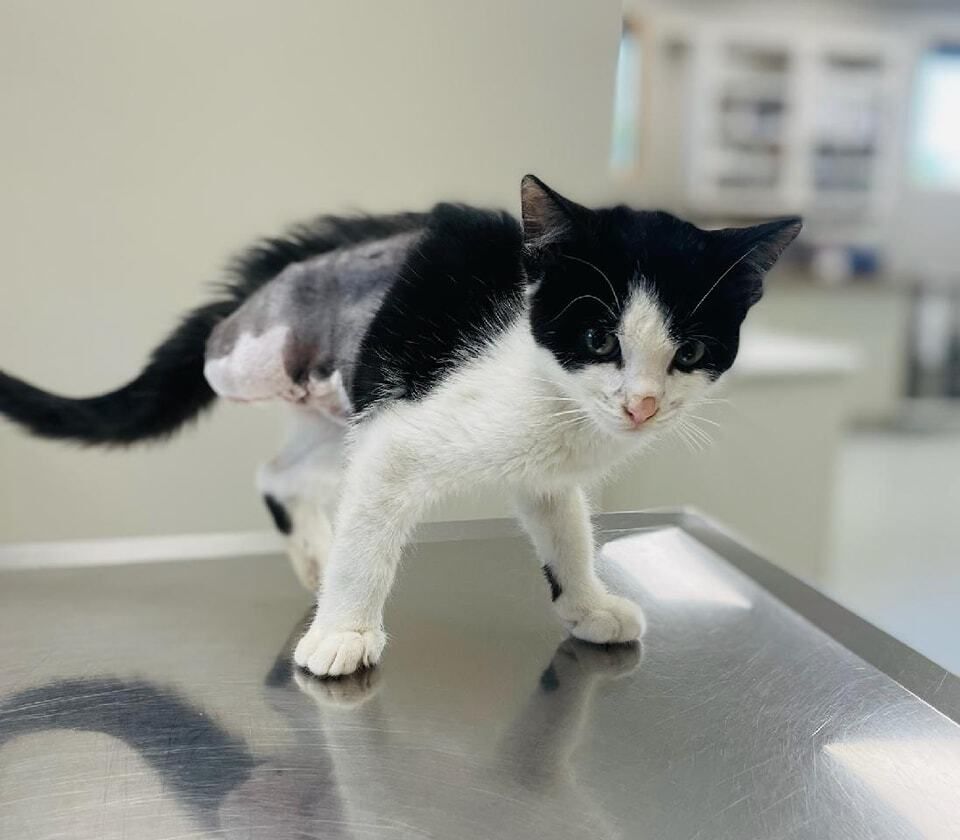 This little stray kitten joined our BHS family in August of 2022, it was very obvious from the moment his finder stepped through our front doors that he needed help, and he needed a lot of that help. The smell coming from the kennel she was carrying was stomach turning but peering inside the kennel we saw a skinny little kitten with a twinkle in his eye that told us he wanted to live.
Dr. Julie and her team at Oakview deserve a huge thank you for the next part. After getting him out of the kennel, it was quickly apparent where the smell was coming from. The kitten was missing his foot, and the remaining bone was infected beyond recognition. Dr. Julie and her team started him towards recovery- they fit an amputation into their already packed day so this little guy would have a chance at life.
We named him Andrew which means strong warrior, as only the strongest could have made it through the last weeks of his life. We shudder to think that the majority of his short life has been in pain, but thanks to the surgery he got, he is already feeling better and even a little... playful!
Andrew isn't available for adoption yet, he will need to recover, put on some weight, get rid of some internal parasites and eventually he will need to be neutered, but he will get that time here at our shelter.
Also, if you see Dr. Julie or her staff, send them a huge thank you. They go over and beyond for the shelter animals in need, and we couldn't save the lives we do without their guidance and assistance.
Andrew, your life may not have been easy before you got to us, but we promise to to everything in our power to help you overcome it and make it to adoption. You deserve a happily ever after and we will be here to help you get just that.
Kit's Cleft Palate Journey