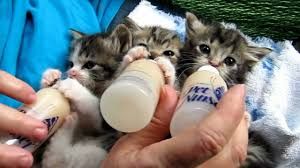 Less than a handful of shelters through the country have a Neonatal Kitten Program at The Beatrice Humane Society we are happy to say, WE DO!
The Neonatal Kitten Program is a unique approach to saving an entire class of especially fragile, homeless kittens. The program targets orphaned, unweaned kittens that unfortunately are fated for euthanasia at many shelters. The targeted age range for this program is newborn to eight weeks of age.
Each year, especially during the breeding season (which spans from March to October), shelters are overwhelmed with orphaned kittens. Prior to BHS's introduction of the Bottle Baby Program, nearly all of these kittens were euthanized because neither the shelters nor local rescue groups in the community could provide the intensive care that these special little ones need to survive. By feeding, treating and providing shelter to kittens that would have otherwise been euthanized, this program fills the gap in the shelter community that is necessary to save the lives of hundreds of kittens each year.
We have our foster program where the kittens go home with volunteers and are cared for until eight weeks of age. (all supplies are given)
We also have in-house care. This means trained volunteers come into the facility at scheduled times, around the clock to feed and care for the Neonatal kittens. 
Please consider helping our groundbreaking and live-saving Neonatal Kitten Program by volunteering, fostering, and/or donating!
Check out our event page and calendar for a list of upcoming bottle baby training classes.
In the mean time you can view this link for more information on Bottle Baby Training  file:///C:/Users/Owner/Desktop/Guide%20to%20Raising%20Underage%20Kittens.20170427190145.pdf
If you have any questions about training in this fun, unique and remarkable program, please feel free to contact us! We look forward to hearing from you. Our volunteers, staff and kittens can't wait to meet you!
Below is a list of much needed items during kitten season:
KMR Powder Formula, Authority or Iams brand canned kitten food, Royal Canin Starter kitten pate canned food, Science Diet Dry kitten food, Nutrical paste, Kitten nursing bottles and replacement nipples, Puppy Pads, Snuggle Safe warming pads, Rollling pull out plastic bins, Gift Cards (Walmart, Petsmart, Tractor Supply), Stainless steel bowls, Cotton Balls, Baby wipes, Unscented laundry detergent, Dawn Dish soap, Turkey or Chicken baby food, Fleece or baby blankets, Bottles of pedialyte.