ADOPTION APPLICATION AND PROCESS
Steps to adoption: 
Step 1: Talk to your landlord, Insurance company, Roommates, Significant other, and all other household members to confirm that everyone is ready for adoption
Step 2: Determine whether you are wanting a dog or a cat. Exercise requirement are significantly different as are personalities, but everyone should agree with the decision. 
Step 3: Find and purchase all necessary supplies, crates, kennels, beds, food bowls, litterboxes, toys scratching posts. 
Step 4: Check out our available animals online and discuss which ones would be the best fit. 
Step 5: The primary owner should fill out an application by selecting the animal you are interested in and clicking "Interested in the animal? Click Here" (see photo below). This will take you to an external site to fill out the adoption application. Once you have completed that contact us at 402-228-9100 to schedule an appointment to meet the pet. 
Step 6: Come meet the animal of your dreams, for dog meetings please bring all children and other dogs in the house. For cats, please bring all children in the house. 
Step 7: If all goes well, we will spend about 30 minutes counseling you on your new pet, how to get them settled and setting you and your new friend up for life long success
Step 8: Go Home! Almost all adoptions can be completed same day if you have followed the steps above!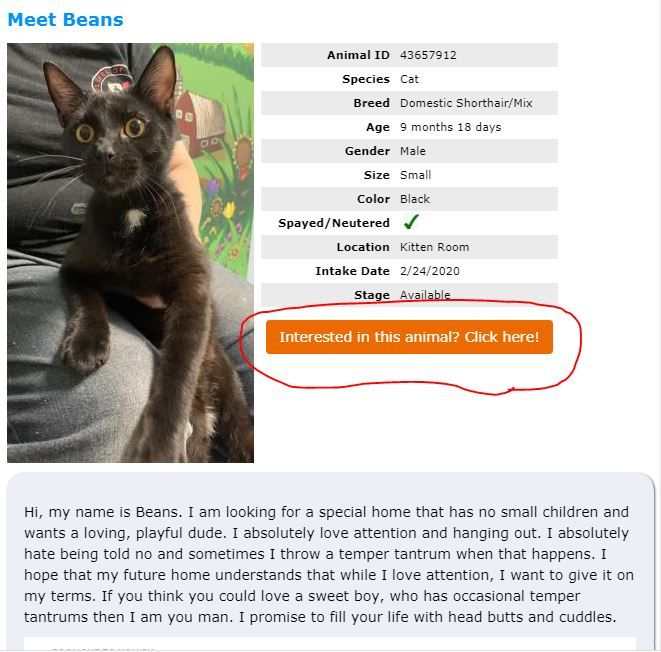 ADOPTION FEES
Our adoption fees include the following:
Wonderful loving pet 
Spay or neuter procedure
All recommended age appropriate vaccines
Treatment for the most common internal and external parasites such as fleas, ticks, lice, roundworms, whipworms, hookworms and earmites
Microchip with the registration
Health testing (FELV/FIV/HW)
Grooming/ nail trims as necessary
---
Kittens under 1 year - $125
Cats over 1 year - $100
Working Cats- Adoption fee waived
Dogs that have been adoptable less than 30 days: $225
Dogs that have been adoptable between 30 and 60 days: $175
Dogs that have been adoptable greater than 60 days: $100
Puppies under 1 year old that have been adoptable less than 30 days: $300
Puppies under 1 year old that have been adoptable greater than 30 days: $250
---
We have restructured our adoption fee structure to allow our highly adoptable dogs that get adopted quickly to help subsidize the adoption fees of our longer term residents. This will allow us to maintain the spotlight on all dogs in our care, even those with behavior or medical challenges or those with longer stays. 
---
We know what you are thinking.. WHAT A DEAL!! We sure agree with you and hope our low adoption fees help you find a furr-ever friend!